In response to the rising demand for medical professionals across the state and nationwide, MedCerts and the University of Vermont Professional and Continuing Education (UVM PACE) are partnering to provide access to MedCerts healthcare training programs.
This partnership provides an affordable, flexible, self-paced opportunity for working adults to earn one of 14 professional medical and healthcare certificates. Programs include Surgical Technologist, Behavior Technician Specialist, Patient Care Technician, and more.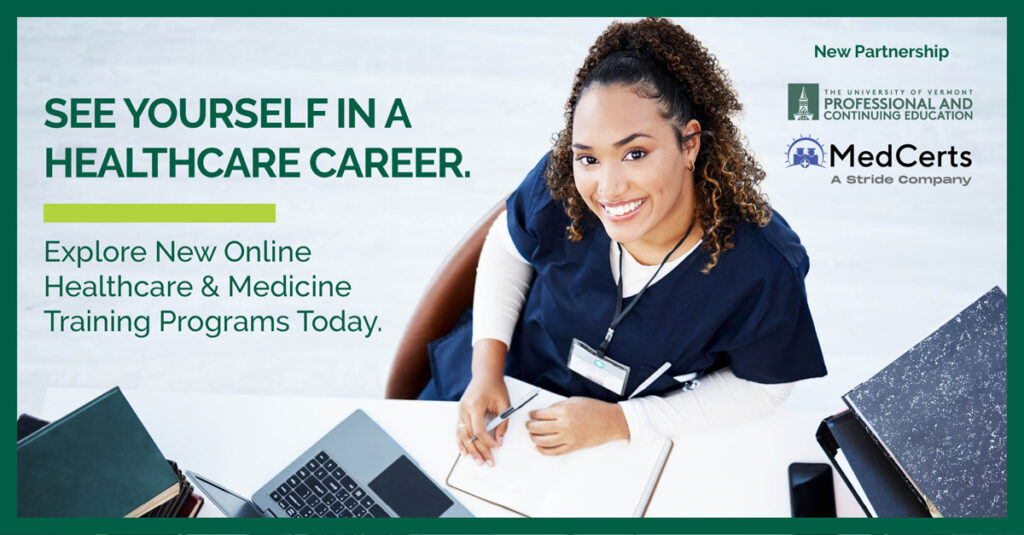 ″We're thrilled to bring this opportunity to UVM PACE's dedicated students," said Craig Sprinkle, CEO at MedCerts, a Stride, Inc.company (NYSE: LRN). "This partnership builds upon our shared commitment to the healthcare space while preparing the vital workforce of the future."
According to the Vermont Talent Pipeline hiring forecast report, more than 6,000 healthcare vacancies are anticipated by September 2023. By partnering with MedCerts, UVM PACE is taking a significant step toward filling the gap of skilled medical professionals in Vermont. The partnership provides working Vermonters with opportunities to begin a career in healthcare or advance their careers to new heights.
As a leader in online healthcare, MedCerts has helped more than 70,000 students earn credentials and start new careers in the in-demand fields of healthcare and IT. MedCerts has developed more than 50 immersive online national certification training programs with best-in-class outcomes.
For more information about available programs, please visit uvm.medcerts.com.