Overview
Learn from Leading Experts and Build New Connections
The upcoming conference will be held on October 28 – 30, 2024, and will focus on the diverse legal issues impacting all aspects of higher education. The program will feature leading experts in:
Higher Education Law
Student Affairs
Campus Public Safety
And much more
Through interactive sessions and panel discussions participants learn practical approaches to complex legal situations.
Participants acquire the knowledge to implement best practices, policies and programs; and develop a network of peers to serve as connectors and advisors who continue to serve as problem-solving resources after the conclusion of the conference.
This is an important conference as it brings together a mixture of people from all over campus, unlike any other conference I am involved with. Individuals working in academic and administrative departments, as well as those working directly with legal issues, will offer diverse perspectives on the issues, including remote learning.

Seth Gilbertson, Senior Counsel, Bond Schoeneck & King Attorneys, 13 years of attendance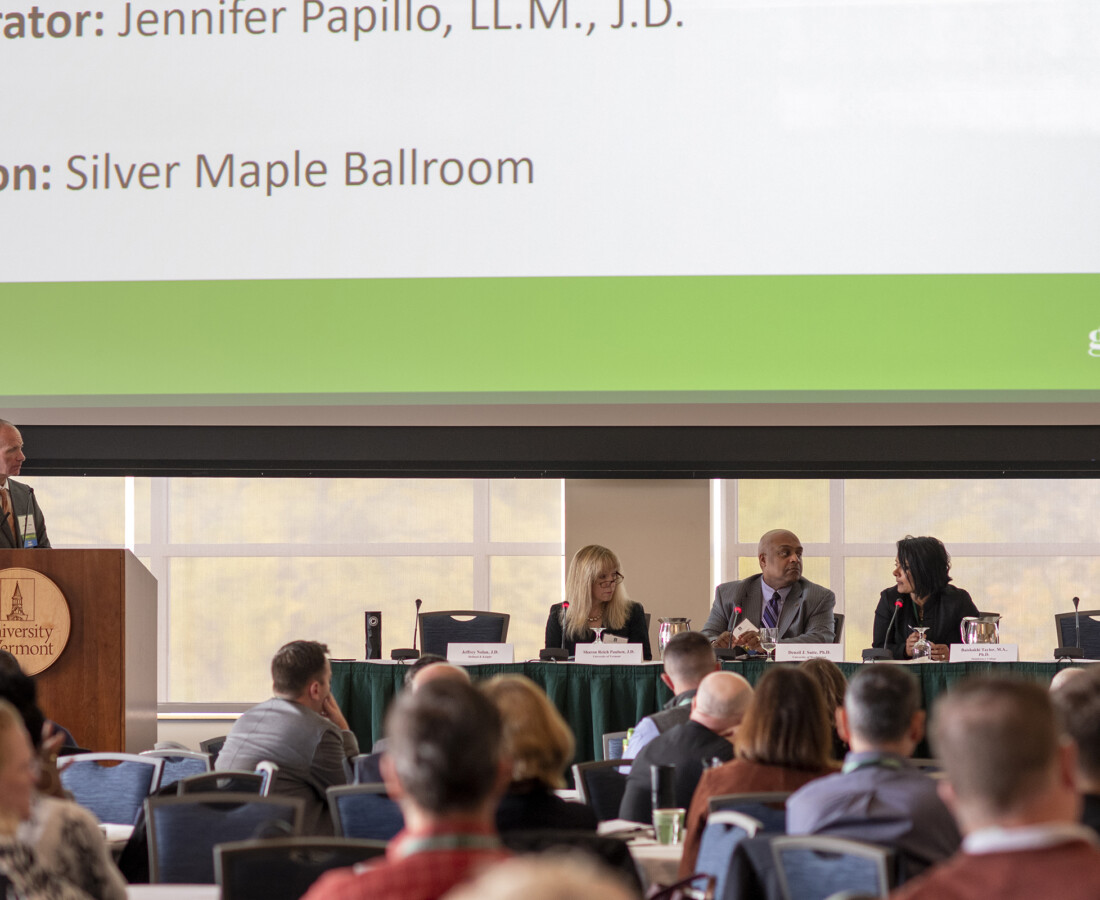 A conference worth attending
A majority of attendees surveyed rated the conference as excellent.
86%

of attendees would recommend the conference to their colleagues
*2022 survey of conference attendees
What sets the Legal Issues Conference at UVM apart
Build a Network
Professionals in the legal field and in student affairs have the opportunity to make lasting connections and support each other to problem-solve long after the conference is over.
Stay Ahead of Issues
Our attendees regularly tell us that the breadth and depth of higher education issues covered at the conference is unparalleled.
Vermont in the Fall
While you're here enjoy all Vermont has to offer from our spectacular fall foliage to the famous Church St. in downtown Burlington.
"The unique part about the Vermont conference is it allows professionals in the legal field and in student affairs to come together and really work together in an intimate setting and address some of the issues and some of the practical considerations that are necessary for implementation of the law on school campuses."

Megan Farrell, J.D., MBA Advisor and Consultant
"Higher education is increasingly regulated by the government and held to a higher standard by courts, and what we have in Vermont at UVM is an incredibly collegial mutually supportive environment where we make connections for the long term with people who are going to help us work through these problems in ways that are going to benefit our students and our institutions."

Joshua W. B. Richards, J.D. Partner, Saul Ewing Arnstein & Lehr LLP
Featured Resources
Explore news from our blog on the latest issues in higher education
Agenda
Two-plus days of concurrent sessions and roundtable discussions
Topics include:
New Title IX Regulations and Implementation
Academic Freedom and Campus Speech
Hazing: Legislation, Litigation, and Prevention
Student and Employee Accommodations
DEI, Affirmative Action, and Bias Response
Students in Crisis: Mental Health on Campus
International Students and Study Abroad
Explore the previous conference schedule
View
Here is a sample of topics regularly covered each year
Current Legal Trends
Title IX Updates
Free Speech on Campus
Student Mental Health
Student Code of Conduct, Acts of Bias, Civility and Discipline
Privacy and Cybersecurity in the Digital Age
Employment Law Updates
OCR Enforcement of Diversity Related Issues
Athletics, Regulations and Expectations Update
Contract Basics
Transgender Student Issues
Due to the changing nature of legal topics impacting higher education and speaker schedules, all topics and schedules are subject to change.
Presenters
Registration
Conference Fees
Early Bird Registration – $980
General Registration (after June 1) – $1225
Group Rate (3 or more) – $980
Early Bird Webstream – $279
Webstream (after June 1) – $349
UVM Faculty/Staff/VT Resident – $349
Sponsor – $1200
Webstream Option
Legal Issues in Higher Education Conference will be available to view via webstream this year if you are unable to attend in person. If you choose to project the conference sessions at your home institution, many participants can view together from one computer login.
The conference will be available via Zoom Webinar, and you will be able to access conference materials on Brightspace. You will be sent instructions on how to access the conference 2-4 business days prior to the start of
Sponsor
As a sponsor at the University of Vermont's annual conference, you will have the opportunity to directly reach a community of practitioners, scholars, and advisors in higher education, law, and public safety.
Participants include attorneys, consultants, and upper-level administrators with job titles like: president, chancellor, provost, vice president, dean, director, and coordinator, in areas such as student life, risk management, human resources, public safety, compliance, as well as general counsel, Title IX Coordinator, and other officers.
$1,200 Event Sponsor
One conference registration
Exhibitor table in designated vendor space throughout conference
Small-sized, full-color logo included in the conference materials
Full-color logo acknowledgment on conference website
Promotional materials included in conference participant packet
To register as a Sponsor, select Register Now and select the Sponsor category. For further information or questions, please contact Professional and Continuing Education at learn@uvm.edu or call (802) 656-2085.
Why CAE Deputy Executive Director Tricia Fechter Gates Attends
"Take the time for your own professional development. The last few years have been hectic and it's worth the time to invest in yourself and your own learning…much has changed over the past few years and the legal issues conferences gives you access to all the experts and information you need to be successful."

Patricia Fechter Gates, Ph.D., CAE Deputy Executive Director, ACPA – College Student Educators International
Housing & Travel
Conference room blocks are available at the Courtyard by Marriott Burlington Harbor and Hilton Burlington Lake Champlain.
We encourage you to make hotel reservations early since the conference takes place during our popular fall foliage season. Rooms will be released forty-five days prior to the conference.
Things to do in or near Burlington
Burlington, Vermont offers excellent shopping & dining on the Church Street Marketplace, and spectacular views of New York's Adirondacks and Vermont's Green Mountains.
Nearby recreational opportunities abound. Cruise on Lake Champlain, arrange a bike trip to see the fall foliage, or explore nearby attractions.
Advisory Board
Tracy Arámbula Turner, Ph.D. Associate Professor & Program Coordinator of Higher Education and Student Affairs Administration (HESAA), University of Vermont
Charles Carletta, J.D. Senior Associate Counsel, Albany Medical Health System
Eva Chatterjee-Sutton, M.A. Vice President of Student Life & Dean of Students, Washington & Jefferson College
Megan C. Farrell, J.D., MBA Advisor and Consultant on Title IX Compliance
Janet Elie Faulkner, J.D. Founding Attorney, Faulkner Legal LLC
Patricia Fechter Gates, Ph.D., CAE Deputy Executive Director, ACPA – College Student Educators International
Seth Gilbertson, J.D. Senior Counsel, Bond Schoeneck & King Attorneys
Cheri Jack, M.S. Associate Dean of Students, Collin College Preston Ridge Campus
Adam Jussel, J.D. Dean of Students, University of Wisconsin-Milwaukee
Nicholas F. Laino, M.S. Senior Vice President for Administration & Finance, Herkimer College
Tamla Lewis, J.D., M.Ed. Associate General Counsel, The Pennsylvania State University
Steven J. McDonald, J.D. Retired General Counsel
Jeffrey Nolan, J.D. Partner, Holland & Knight
Kimberly Novak, CEO, NovakTalks
Jennifer L. Papillo, LL.M., J.D. Associate General Counsel, University of Vermont
Joshua W. B. Richards, J.D., B.A. Partner, Saul Ewing Arnstein & Lehr LLP
Hannah Ross J.D. General Counsel, Chief of Staff, and Secretary to the Corporation, Middlebury College
Dr. William Stackman, Ph.D. Vice Chancellor for Student Affairs and Dean of Students, University of Missouri-Columbia
Denzil J. Suite, Ph.D., Vice President for Student Life, University of Washington
FAQ
How to Earn CLE Credits
Webinars
Explore our past webinars
View our library of webinars on changes to Title IX regulations which impact how colleges and universities address formal complaints of sexual harassment, sexual assault, dating violence and gender-based stalking, the most dramatic of which will involve live hearings with cross-examination.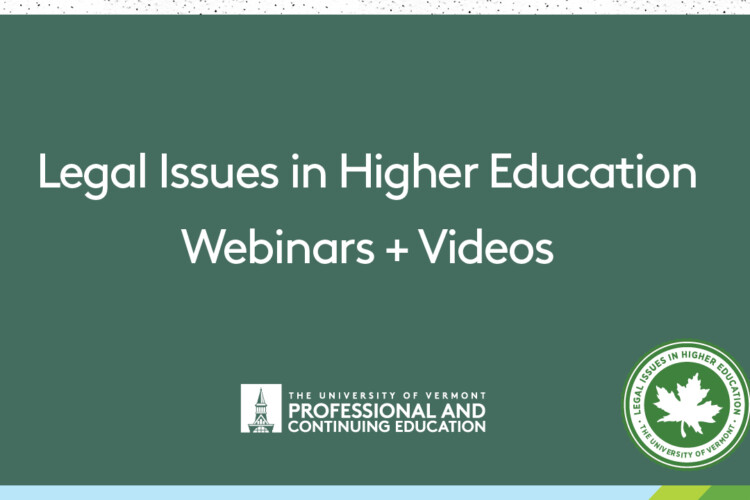 Ready to get started?
Request Information
Submit this form to receive additional program information.