Overview
Pursue Your Passion for Education in a Library Setting
The school library media courses are offered as standalone courses that are aligned with the school librarian endorsement for Vermont educators, or as a strand within the Master of Education program within the College of Education and Social Services.
Our six school library media courses are offered in a two-year cycle, one per semester, and are delivered in a blended synchronous and asynchronous online format that is convenient for distance learners.
Admissions
For practicing educators and career changers
Our courses are for you if you're a practicing educator who would like to add another endorsement to your educator license.  If you want to change careers to the field of education and school librarianship, you'll gain knowledge and hand-on experiences that, along with additional education coursework, can lead to initial certification. 
Curriculum
The licensure series is designed to flow as a sequence, with the management course (EDLI 6720) a prerequisite for all other courses. However, the courses may be taken as stand-alone courses or taken out of sequence as circumstances permit with permission of the instructor.
School Library Media Courses are offered in a rotating two-year cycle, one per semester Fall, Spring, Summer.
Program of Study
First Year of Sequence
EDLI 6720
Managing and Leading School Library Media Centers (FALL)
This course examines foundational principles and issues of school librarianship, such as intellectual freedom, equity, and access. Candidates will prepare for organizing and operating a school library media center, with emphasis on leadership and advocacy for planning, policy and procedure development, facility design, personnel administration, and program evaluation.
EDLI 6730
Developing and Organizing School Library Media Center Collections (SPRING)
Explore fundamental concepts for developing and organizing School Library Media Center collections in this course. Equity of access to information resources is a guiding principle that drives collection development, and emphasis is placed on evaluation, selection, and acquisition of resources appropriate for students, staff, and other patrons in contemporary schools in both physical and virtual environments.
EDLI 6770
Information Technologies for School Library Media Centers (SUMMER)
This course explores the planning, instructional use, and management of technology in the contemporary school library media center. Learners will develop competence and confidence in teaching with and using technology. This course explores the ways that technology can support readers, provide access to resources, create community, and give students authentic outlets to communicate their ideas beyond school walls. Course participants will also examine ways to design instruction to teach and promote digital citizenship and media literacy skills.
Second Year of Sequence
EDLI 6760
Information Sources and Services for School Library Media Centers (FALL)
This course focuses on the teacher librarian's role in the information landscape. Information Sources and Services addresses: research strategies, search tools, information curation, teaching, and evaluation with multimedia digital reference resources to meet the needs of a diverse learning community. There will be an emphasis on virtual library learning spaces which is critical in an anytime, anywhere learning environment.
EDLI 6740
Designing Learning in School Library Media Centers (SPRING)
This course is designed to explore theories and best practices for teaching and learning in today's school libraries. School Librarians are educators who demonstrate knowledge of learners and learning. They model and promote collaborative planning and assessment, instruction in multiple literacies, and inquiry-based learning which enables members of the learning community to become effective users and creators of ideas and information. School Librarians design and implement instruction that engages students' interests and develops their ability to inquire, think creatively and critically, build citizenship skills, and gain and share knowledge in a proficiency-based, personalized learning environment.
EDLI 6710
Children's and Young Adult Literature (SUMMER)
Effective school librarians promote reading for learning, personal growth, and enjoyment. This course is designed as a survey of the context and merit of children's (CH) and young adult (YA) literature, that is, books written for and read by readers from ages Pre K-Grade 12. The course will examine major trends in children's and young adult literature, and current issues in the selection of reading materials in multiple formats to support reading for information, reading for pleasure, and reading for lifelong learning. The course also includes a focus on best practices in reading and literacy instruction that enhances opportunities to meet the diverse interests and abilities of all readers.
"I'm helping to develop my students love of reading and exposing them to books, ideas, and cultures around the world. I'm also teaching students inquiry skills, helping them develop critical thinking, and how to be responsible citizens."

Emily Wood, Librarian
Career Outlook
Over the next decade, almost 70 percent of school library media specialists across America are expected to leave their jobs, many due to retirement, according to the American Library Association. In addition, fewer people are going into the profession, resulting in more jobs. In 2016, the number of jobs rose by over 5 percent, according to the U.S. Bureau of Labor Statistics. Some job growth may be tempered by any economic downturn, as schools make cutbacks and eliminate library positions or cut hours.
Careers
Stricter certification rules, federally mandated standards and test scores and the increased role of technology in classrooms and libraries all have led to major changes in the profession. School library media specialists introduce elementary, middle school and high school students to literature and help them locate and select books and other media. They also help students conduct research via traditional media and the Internet, and they may assist teachers in instructing, developing curricula, acquiring and selecting materials or team-teaching.
Further Info
Salaries
Library media specialists salaries are similar to those of teachers, according to the National Bureau of Labor Statistics. In 2021, the average Vermont public school school library media specialist was $61,190.
Advising and Student Support
You have the goal; we'll help you achieve it
We are dedicated to helping you access UVM. It is our role to get to know your experience and goals, assist you in choosing courses, guide you through registration, and serve as your resource throughout your time at UVM.
Curious if your past college credits apply at UVM? Want to understand where a program will take you after completion? Looking for resources for financial aid, tutors, or UVM policies? We're here to help.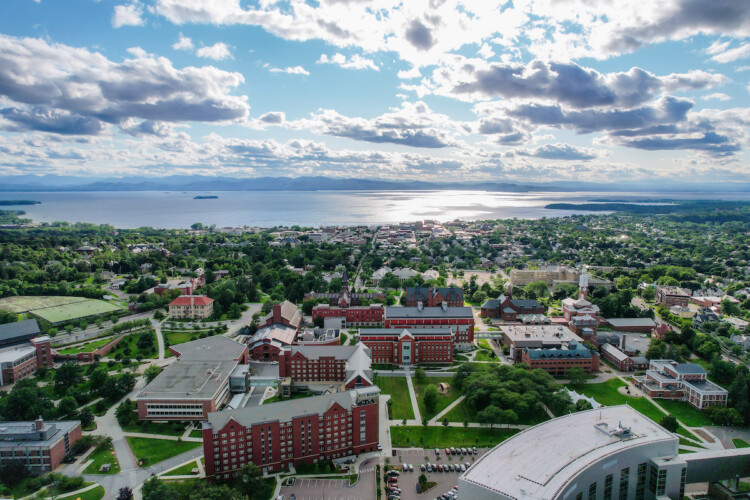 Ready to get started?
Request Information
Submit this form to receive additional program information.