Overview
Cannabis: Be in the Know
Now, more than ever, there is an ever-increasing demand for clinicians, dispensary managers, and other industry professionals to understand the indications, counter-indications, benefits, and risks of cannabis. Yet, according to Forbes, a recent study revealed that most physicians lack knowledge of medicinal cannabis. In fact, 65 percent reported that they have been asked about medical marijuana as a treatment for chronic pain, but were unable to answer their patients' questions.
What sets UVM apart
UVM is the first medical school in the nation to offer a professional certificate in cannabis and medicine. Our seven-week, online professional certificate is designed for physicians, dispensary personnel, nurse practitioners, pharmacists, physician assistants, and regulators.
Offered by UVM's Department of Pharmacology, this non-credit program covers cannabis history, business, law and policy, plant biology, biological effects on humans, production and safety, pharmacology, and clinical research.
"Our online cannabis professional certificates concentrate on evidence-based, scientific approaches to understanding the therapeutic uses of cannabis for the future of medicine," says Dr. Monique McHenry, Director of the Medical Cannabis Center for Research and Education and co-director of the cannabis pharmacology course at the University of Vermont Medical School.
Learn from experts in UVM's pioneering, evidence-based Program
Develop a broad understanding of cannabis and advanced concepts
Earn an an industry-leading credential
Comprehensive Learning of Cannabis Science and Medicine
This program delivers a unique experience for students to develop a broad understanding of cannabis and its medicinal use, with more advanced concepts relevant to biology and medicine.
Students will also learn about the acute and chronic effects of psilocybin, factors that influence psilocybin pharmacology, and more including the therapeutic effects (beneficial and adverse) of psilocybin/psilocin.
As an industry-leading credential UVM's Professional Certificate in Cannabis Science and Medicine gives professionals assurance they can accurately inform patients and customers, as well as gain a competitive advantage as a knowledgeable, trustworthy provider who can effectively minimize the risks and maximize the benefits of cannabis for therapeutic use.
Admissions
A cannabis program for health care professionals and more
Our seven-week, online professional certificate is designed for:
Physicians
Dispensary personnel
Nurse practitioners and Registered Nurses
Pharmacists
Physician assistants
Edible creators
Regulators
Course Prerequisites
Students must be 18 years of age or older, have a bachelor's degree, and have completed college-level foundational science courses in Biology and Chemistry. Note that you are not required to submit transcripts and relevant career experience can replace academic requirements. For example, experience as a Registered Nurse will void the science course requirement.
Curriculum
Courses topics range from legal issues to pharmacology to clinical research.
This program is intended to be a unique experience for students to develop a broad understanding of cannabis and its medicinal use, with more advanced concepts relevant to biology and medicine in the context of the following objectives:
Utilize a balanced academic approach to dispel myths surrounding the benefits and toxicities associated with Cannabis use
Discuss pharmacokinetics of cannabis for therapeutic use
Explain to patients the best evidence-based indications for clinical use of cannabinoids and terpenes
Identify the key legal issues around Cannabis for therapeutic use
Describe the pharmacology and toxicology of Cannabis and cannabis-based products
Critically review and assess the current evidence for safety and efficacy of Cannabis and cannabis-based products.
The curriculum includes the following:
Week 1: Program Introduction: History of Cannabis, Business, Policy and Law
Monique McHenry, PhD
Presentations: Introduction; History, Legalization Status, and Research Policy; Business; Law
Week 2: Cannabis Plant Biology and Basic Science
John McPartland, DO, Monique McHenry PhD, Wolfgang Dostmann, PhD
Presentations: Plant Biology; Chemistry; Endocannabinoid System; Live Seminar
Week 3: Cannabis Production and Safety
Monique McHenry, PhD, Kalev Freeman, MD, PhD
Presentations: Production Preparations; Safety
Week 4: Cannabis Pharmacology
Kalev Freeman, MD, PhD, Karen Lounsbury, PhD, John MacKay, PhD
Presentations: Modes of Administration; Adverse Effects
Week 5: Cannabis Clinical Research (Pain & Endocrine System)
Kalev Freeman, MD, PhD, Fran Carr, PhD
Presentations: Chronic Pain and Inflammation; Cancer and the Endocrine System; Live Seminar
Week 6: Cannabis Clinical Research (Motor Disorders)
Kalev Freeman, MD, PhD, Karen Lounsbury, PhD
Presentations: MS and Parkinson's; Epilepsy; Live Seminar
Week 7: Program Summary
Monique McHenry, PhD
Student Stories
I know that the plant has been used medicinally for centuries. It comes up as a treatment option for many of the patients I meet with and the course gave me more confidence to talk about it. I'm forever indebted to the program and it's exactly what I was looking for.

Hillary Woodson Gaskins, MD
I wanted a science-based perspective on cannabis. Because I deal with it quite often in my workplace, I wanted a clear grounding so I could do the work without judgment. Having the UVM certificate shows that this is a legitimate topic and issue.

Monika Rivero, Program Alumnae
The staff and curriculum were great. I particularly enjoyed the research aspect and learning to write the required papers and the online interaction with other students. The UVM cannabis program provides a reputable source of information for not only medical professionals but anyone who wants to deep dive into the benefits of cannabis as medicine.

James Brent, DMD
I walked away with the language to be able to explain to others why and how cannabis works the way it does, and what we don't understand because the research isn't there yet. I learned a lot. My goal was accomplished—and then some.

Kelly Goldberg, Program Alumnae
Cannabis Science and Medicine Student Katy Charoensatit speaks about her experience studying cannabis.
Career Outlook
Medical Cannabis Jobs to Explore
The medical cannabis industry has grown to include many career opportunities within various fields. While this certificate alone won't earn you a medical degree, it will enhance your knowledge and open up new career opportunities, including jobs such as:
Cannabis medical director
Quality assurance inspector
Cannabis program specialist (policy)
Research compliance analyst
Health care communications
Extraction and operations
Cannabis lab technician
Cannabis researcher
Cannabis Science Education Crosses Many Industries
UVM's Cannabis Science and Medicine Professional Certificate draws students from all types of profession, including physicians, dispensary personnel, nurse practitioners, pharmacists, physician assistants, and regulators. Here are a few of the organizations where our students have been employed.
Ceres MED
Plattsburgh Pediatrics
Kinney Drugs
Saint Francis University
CBD Dog Health
Swedish Med Group
Platform to Recovery
Kaiser Permanente
Medical Dynamics & Pure Bloom CBD
Massachusetts General Hospital
Penn State College of Medicine
Wayne State University
PerformaX Physical Therapy
Harborside Behavioral Health
University of Vermont Medical Center
Greenleaf Compassionate Care Center
House of Alchemy
G3 Medical Marketing
Advising and Student Support
You have the goal; we'll help you achieve it
We are dedicated to helping you access UVM. It is our role to get to know your experience and goals, assist you in choosing courses, guide you through registration, and serve as your resource throughout your time at UVM.
Curious if your past college credits apply at UVM? Want to understand where a program will take you after completion? Looking for resources for financial aid, tutors, or UVM policies? We're here to help.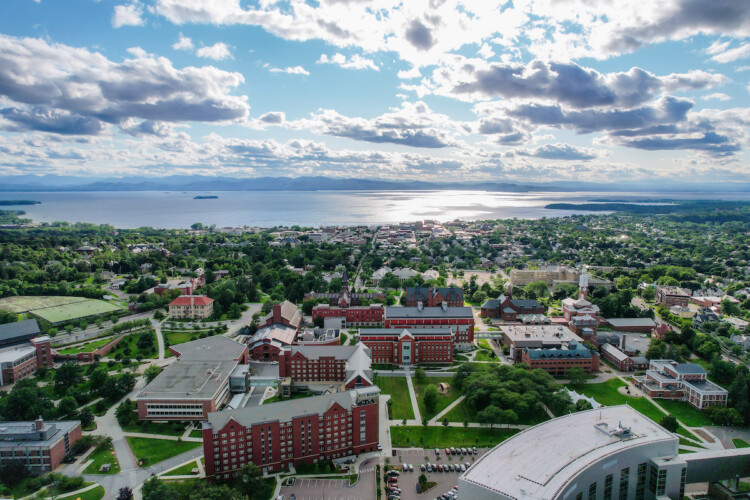 Ready to get started?
Request Information
Submit this form to receive additional program information.