Overview
Map the way forward with GIS
Thanks to satellites, millions of images of the Earth and human activities are at our fingertips. Computers store massive amounts of data and digital software is rapidly developing. Yet, how do we make sense of all this data to create positive change? That's where skills in Geospatial concepts come in.

This 4-course, non-credit GIS certificate program covers Geographical Information Systems (GIS), remote sensing, geospatial computation, and data communication. All so you can turn big data into useful information that helps solve real-world problems whether socioeconomic or environmental.
Whether you're new to the industry or looking to advance your career, the program is customizable based on your interests and designed to improve your critical thinking and applied problem-solving skills.
Learn the Latest Software
Using ESRI's ArcGIS and other leading software, you'll translate a range of geospatial data into layered maps that allow complex themes to be communicated to wider audiences.
Build on Our GIS Credibility
Establish your credibility in the world of GIS with UVM, a recognized leader in the use of geospatial technologies and research.
Gain Advanced Skills
You'll learn to go beyond "off the shelf" buttons toward the ability to customize workflows, scripts, or models in Python and R.
"GIS and geospatial analysis is a lot more than a map…a map is a product, but what we're talking about is the integration of information and analysis of information. It's a really powerful strategy to answer questions."

Gillian Galfor, GIS Certificate Instructor and Program Director
Who is GIS right for?
If you love maps, data, and technology and have a passion for sparking positive change in the world, you've come to the right place.
Whether you're looking to get started in GIS, or want to expand your skill set, UVM's GIS certificate program is right for you if you want to:
Empower leaders with tools to make more informed decisions.
Be curious and investigate what-if scenarios.
Engage with real-world applications and the latest technologies.
Pursue your passion for biodiversity conservation, forest fire suppression, agricultural monitoring, humanitarian relief, and much more.
UVM's GIS & Data Communication Professional Certificate is designed to help you succeed in the growing field of GIS and geospatial analysis. No prior GIS experience or background in coding or computer programming is required.
"Given the scope of this course, it's completely appropriate for a beginner and novice to both coding and remote sensing to be comfortable and not overwhelmed…in taking these courses a key skill you'll acquire is the ability to be able to decipher what you're seeing when you're looking at any map."

Amanda Armstrong, NASA Senior Research Scientist and UVM GIS instructor
Curriculum
Choose four courses and when to take them
This 4-course certificate is fully online and designed to be completed within one year with the option of extending based on your individual academic needs. To provide you with maximum flexibility, you choose the 4 courses from the list below based on your interests, experience level, and schedule. All courses are 8 weeks long.
While the program focuses on a handful of software tools, the introductory course will help students adapt to new or preferred software. Students will also increase their understanding of data collecting in the field with GPS and apps, problem-solving with spatial analysis in ArcGIS, map-making through cartography and data visualization, and environmental modeling.
By the end of this program, you will have gained the skills to:
Use ArcGIS Pro as a tool to learn conceptual underpinnings of and practical applications of GIS.
Harness remote sensing as a tool for environmental or landscape problem-solving.
Analyze data to reveal patterns and relationships to better inform decision-makers.
Create impactful maps and visualizations of large and complex datasets that encourage comparison and visual analysis by the viewer.
Go beyond "off the shelf" buttons towards the ability to customize workflows, scripts, or models in Python.
*The Independent Study requires the student to fill out an application and submit a proposal. Please view the GIS & Data Communication Independent Study under course descriptions for more information
Sample Curriculum with a Summer Start
May – July: Intro to GIS
Oct. – Dec.: Advanced GIS
Jan. – March: Remote Sensing Foundations
June to Aug.: Data Visualization and Communications
Not sure whether to start with the intro or advanced course? Check out our FAQ.
Course Descriptions
Learn from NASA Senior Research Scientist Amanda Armstrong
Student Stories
Our students use customized workflows and models, achieved with geospatial computation in Python and R computer languages. Communication of the results, such as maps and data, is both an art and a science that is increasingly utilized in reports, news, websites, and social media. See how some of our GIS students have pursued their passion for maps and data with GIS.
"Satellites in space can detect nearly anything – air pollution, algae blooms – and working with that data was very cool."

Alison Spasyk, UVM GIS Certificate Graduate
"I'm drawn to this field for climate change, and environmental management and remediation….[there is] huge potential for social planning applications and to address social justice issues with GIS."

Charlotte Reining, UVM GIS Certificate Graduate
See how GIS is helping reduce deforestation
GIS is enhanced by the derivation of information from remote sensing, such as digital images of the earth used to map roads or deforestation.
A UVM-led team found mining has caused 10 percent of Amazon deforestation in the past decade. With the help of GIS, they were able to discover that 90 percent of this loss happened outside government mining leases.
Instructors
UVM's Professional GIS Certificate program is taught by industry professionals who have a wide range of applied experience in the course material, including work with research enterprises, software companies, consulting firms, and NGOs.
Career Outlook
Increase your earning potential and career prospects with GIS
There is increasing demand by employers for professionals in GIS and geospatial analysis. The U.S. Bureau of Labor Statistics identifies GIS as a field with a "bright outlook" for future career opportunities and higher-than-average growth of 10 percent per year.
In 2023, the median income for those working in GIS was $95,270. Skills in ESRI's ArcGIS Pro software are highly sought after in GIS job postings.
Here is a look at some of the jobs you can get with expertise in GIS:
Field technician
Forester
Data scientist
Healthcare data analyst
Software developer
Business analyst
Consultant
GIS specialist
Intelligence analyst
Environmental scientist
Image analyst
Geospatial developer
Geologist
Urban planner
Cartographer
Remote sensing or UAS scientist
"We have students who have gone to work with GPS companies like Trimble, people who go on to work for the government or NASA, or mapping and managing trails and recreation for state parks. There's a really high demand in health informatics…people are really realizing that they need this data."

Gillian Galfor, GIS Certificate Instructor and Program Director
Skills relevant to employers provided by this certificate include:
Geographical Information Systems (GIS using ArcGIS Pro)
GPS technology
Map-making, data visualization and communication
Database management
Remote sensing
Web mapping
Workflow programming with code (e.g. Python)
Advising and Student Support
You have the goal; we'll help you achieve it
We are dedicated to helping you access UVM. It is our role to get to know your experience and goals, assist you in choosing courses, guide you through registration, and serve as your resource throughout your time at UVM.
Curious if your past college credits apply at UVM? Want to understand where a program will take you after completion? Looking for resources for financial aid, tutors, or UVM policies? We're here to help.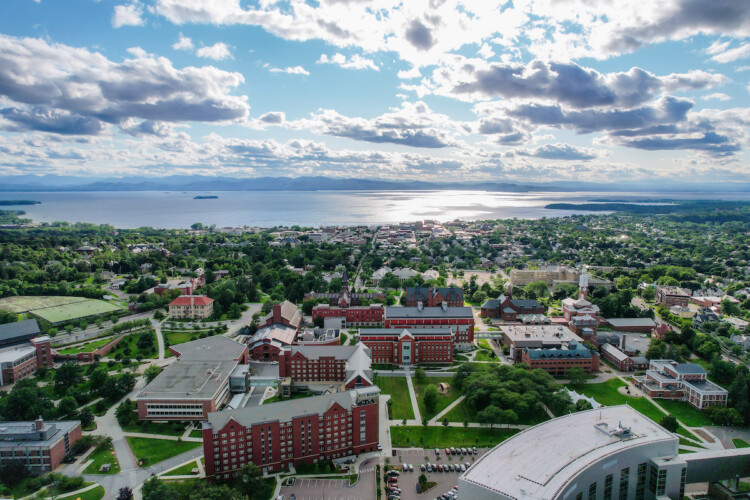 Ready to get started?
Request Information
Submit this form to receive additional program information.