Overview
Best Practices for Effective Project Management
Putting good project management skills into practice can save money, time, and stress for you, your team, and your organization. By reducing uncertainty, managing risks, and controlling change, teams with effective project management tools can successfully deliver on expectations.
Earning UVM's certificate will demonstrate to employers and co-workers that you have the essential project management knowledge and skills that align with the Project Management Institute's (PMI) standards.
In our program, you'll participate in an interactive case study to gain practice preparing project charters, stakeholder registers, scope baselines, project schedules, and risk registers. Special attention is also paid to effective communications, cultivation of high-performing teams, and conflict resolution.
Attendees of these classes can also earn PDUs from PMI.
Module 1: 4 Technical and 2 Leadership
Module 2: 3 Technical and 3 Leadership
Why this Class?
This class offers the following advantages
The certificate uses the latest approaches to support rapid acquisition of new skills. In our program, you'll practice the skills needed to be a project manager in the real world.
The certificate has sifted down the hundreds of project management concepts, and techniques, to the dozen skills that people need to start managing projects. Once someone is comfortable with these skills, they can then easily learn other techniques on their own when the need arises.
The certificate is built on a blueprint showing when the skills are most needed in the lifecycle of a project. Most classes don't include a sufficiently flexible and detailed process for project management activities. This leaves students unsure about when to do something or reluctant to jump into a project already underway. Again, once you are comfortable with the blueprint, you can readily adapt to other ways of working as the need arises.
The certificate addresses the topics of conflict management and team building using specific scenarios that occur in the real world. Many classes teach theories and models for these topics which are abstract and often difficult to translate into circumstances people face day to day.
The certificate gears content to a general learner and not someone from a Fortune 500 company or software team.
A program that focus on practices appropriate for any project.
We provide a blueprint showing when to use a particular skills and practices
Interactive exercises to gain confidence in applying the practices.
Who Should Take this Certificate?
UVM's certificate is ideal for someone:
seeking to reduce stress and frustration because they are on a project that is out of control or not going anywhere
responsible for delivering something important but not sure what to do
who knows what needs to be done but keeps running into roadblocks
seeking to add concrete evidence of project management skills to their resume
curious about project management and wants to decide whether to pursue it as a career or to get a PMI certification
who is comfortable participating in class, has at least 1-2 years of work experience, and familiar with typical office tools like Excel, Word etc.
This Certificate is not as appropriate for someone:
looking to prepare for a PMI Certification exam. The reason is the material covers a subset of material in the exams and focuses on applying project Management in real life versus passing tests. That said, the certificate fully aligns with the PMI's PMBOK Sixth AND Seventh editions and introduces concepts from these standards which may appear in the exams.
needing PDUs. If someone wants PDUs it means they have already earned a PMI Certification and the material will be familiar. However, people can be PMP-certified and still feel uncomfortable with applying project management in real life. For these people, this certificate will be beneficial and 12 PDUs will be earned.
Curriculum
2024 Course Schedule
The certificate emphasize project management practices for today's organizational, cultural, and economic world.  Through instruction, dialog and real-world examples and exercises, attendees will be able to:
Prepare a Project Charter
Conduct a Stakeholder Analysis
Create a Work Breakdown Structure
Develop a Project Schedule
Create a Risk Register Communications Plan
Manage Project Changes and Risks
Leverage basic project management skills throughout a project life cycle
The classes align with the Project Management Institute's most recent standards (PMBOK® Guide, Seventh Edition) and address the Knowledge Areas of Stakeholders, Team, Development Approach and Life Cycle, Planning, Project Work, Delivery, Measurement, and Uncertainty
Class Structure
Rapid skill acquisition relies on the individual:
Understanding what skills are needed for the area of interest
Learning enough information about each skill
Practice, practice, practice. Emphasis is on practice and feedback because this provides confidence with the skills—something that listening to lectures and taking multiple-choice tests does not confer.
Using these principles, the class is structured as followed
Project management is broken into skills and a Blueprint connects them together
Skills are explained
Skills are practiced and feedback provided:

Before class, on a case project
In class, through role playing as a project manager
After class, on a project of the student's choosing
Students need to plan to:
attend each weekly one-hour class and actively participate
spend 2-4 hours per week (1) learning concepts and skills from videos, (2) filling-in project management templates and/or (3) preparing simple presentations
upload templates so the instructor can provide feedback
Week 1: Project Management Fundamentals
Key Definitions
Project Management Principles
Project Management Performance Domains, Models, Methods, and Artifacts
Practical Project Management Blueprint
Week 2: Initiating the Project
Understanding Business Objectives, Assumptions and Constraints
Preparing the Project Charter
Stakeholder Identification & Analysis
Week 3: Project Communication
Communication approaches
Project meetings
Project information
Week 4: Planning a Project — The Basics
Scoping a Project
Creating a simple Project Schedule
Managing Project Risks
CASE STUDY: Run-a-Thon Fundraiser, Part 1
Week 1: Planning the Project – The Details
How to create a Work Breakdown Structure
Estimating a Budget and Resource Needs
Using a Gantt Chart
Week 2: Creating High Performing Project Teams
Understanding the importance of inclusion
Aligning expectations
Creating buy-in and engagement
Week 3: Executing, Monitoring and Closing the Project
Tracking and Communicating Project Status
Managing Issues, Actions and Risks
Project Closing and Acceptance
Capturing Lessons Learned
Week 4: Managing Change and Conflict
Addressing Change Requests
Handling common conflicts
CASE STUDY: Run-a-Thon Fundraiser, Part 2
Student Stories
Learn how students make the most of the program and applied what they learned.
Project management is a skill set that's applicable in many different fields and areas, and it can often help you level up in your career if you have some more formalized knowledge.

Alessandra Capossela, Program Alum
All areas of the course provided great information and the course worked reinforced the topics discussed. The format was perfect for the adult learner with competing interests for their time.

Craig P., Program Alum
The right amount of material kept me engaged and it was a great experience. I plan to pursue a career in Project management. As a contractor, I will use much of what I learned on future projects.

Michael P, Program Alum
I like the live sessions for reviewing the work and seeing and hearing classmates describe their projects and challenges.

Parker H, Program Alum
#StudentVoices: Project Management Alumna Alessandra Capossela on Fitting a Course in as a Working Professional
Career Outlook
Project Managers are in Demand
Employment of project management specialists is projected to grow 7 percent from 2021 to 2031, according to the US Bureau of Labor Statistics. Many positions need project management skills, including:
Business analyst
Content director
Product manager
IT specialist
Events manager
Health care supervisor
Advising and Student Support
You have the goal; we'll help you achieve it
We are dedicated to helping you access UVM. It is our role to get to know your experience and goals, assist you in choosing courses, guide you through registration, and serve as your resource throughout your time at UVM.
Curious if your past college credits apply at UVM? Want to understand where a program will take you after completion? Looking for resources for financial aid, tutors, or UVM policies? We're here to help.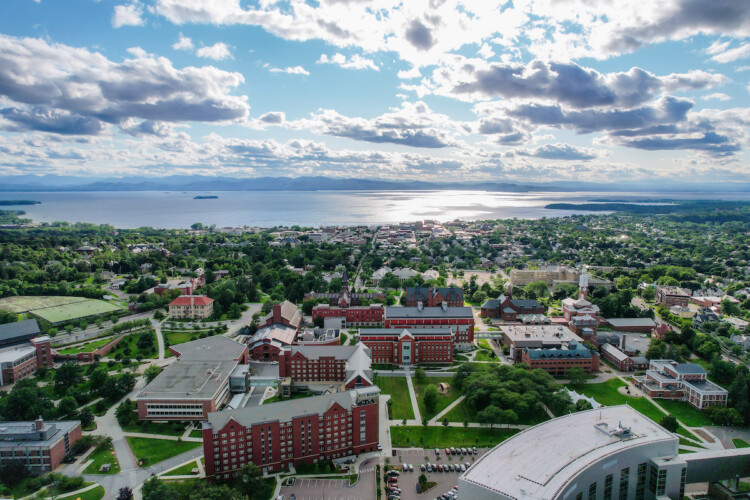 Ready to get started?
Request Information
Submit this form to receive additional program information.